ZCS - ZIMO CV Setting Tool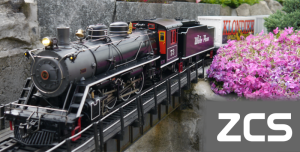 Der Gebrauch dieser Software erfolgt auf eigenes Risiko ! The usage of this software is on your own risk !
---
Inhalt
---
| | |
| --- | --- |
| Version: | 4.12 |
| Datum / date: | 2017-01-29 |
| Download: | zcs-412.zip |
ZCS ist Freeware. Support ist nur per Email möglich. EXE-Datei aus dem ZIP extrahieren und installieren.
ZCS is freeware. Support is only possible by Email. Extract and install the EXE in the ZIP.
---
ZIMO-Decoder besitzen inzwischen eine sehr komplexe Konfiguration mit vielen CV-Werten. Mit ZCS kann man auf einfache Weise die CV-Werte in ZPR und ZPP Dateien anzeigen und ändern.
Die Software ZCS wurde von Oliver Zoffi (Link) entwickelt. Mitte 2014 übernahm ich die Wartung und Weiterentwicklung.
Unterstütze Schnittstellen:
ZIMO decoder have a very complex configuration with a lot of CV values. ZCS is a small software tool to view and change the CV values in ZPR and ZPP files.
The software ZCS was developed by Oliver Zoffi (Link). I toke over support and development in the middle of 2014.
Supported Interfaces:
---
Die Anleitung zu ZCS ist hier verfügbar: Link (Hinweis: nicht auf dem aktuellen Stand)
The manual is available here: Link (remark: not up-to-date)
---
[N] neu/new [C] korrigiert/corrected
Datum / date
Version
Deutsch
english
Download
2017-01-29
4.12

[N] ZCS-Datei Decodertyp wird gespeichert und automatisch geladen
[N] Funktionsdecoder CV83 neu
[N] Verbundadresse CV19+20 erweitert
[N] Panto mit Servo CV186-189 neu
[N] Funktionsdecoder Zweitadresse mit Mapping neu
[N] Sound CV277 neu
[N] Mausrad ein/aus generell und im Fahrpult (siehe Einstellungen)
[K] Servo CV181-184 ergaenzt
[K] Advanced Mapping Fehler in CV431 korrigiert
[K] Fehler CV64 korrigiert
[K] Darstellung CV152.6/7 Richtungsbit korrigiert
[K] Lichtunterdrueckung CV107-110 korrigiert
[K] Advanced Mapping CV800-823 Laden/Speichern korrigiert

[N] ZCS file decoder typ is stored and automatically loaded

[N] function decoder CV83 new

[N] consist address CV19+20 extended

[N] panto with servo CV186-189 new

[N] function decoder second address with mapping new

[N] sound CV277 new

[N] mouse wheel on/off general and in throttle (see settings)

[C] servo CV181-184 extended

[C] advanced mapping error in CV431 fixed

[C] error CV64 fixed

[C] display of CV152.6/7 direction-bit fixed

[C] light suppression CV107-110 fixed

[C] advanced mapping CV800-823 load/save fixed

zcs-412.zip
2016-08-07
4.11

[N] MXULFA PoM Lesen ab Firmware 0.70 implementiert
[N] Neuerungen Decoder-Firmware 35.27 implementiert
[*] Hinweis: Funktionsdecoder 2.Adresse noch nicht implementiert

[N] MXULFA PoM read with firmware 0.70 implemented

[N] new features in decoder firmware 35.27 implemented

[*] remark: function decoder 2nd address not yet implemented

zcs-411.zip
2015-04-13
4.10

[N] Menü Decoder/Reset im Live-Modus
[N] Menü ?/Einstellungen Konsole ein/aus
[N] CV109+110 ergänzt
[N] CV124 Bit 7 (NEXT18) ergänzt
[K] Eingangsmapping überarbeitet
[K] Fahrdecoder/Funktionsdecoder Umschaltung überarbeitet
[K] Servo CV161 ergänzt

[N] menu decoder/reset in live-mode

[N] menu ?/settings console on/off

[N] cv109+110 enhanced

[N] cv124 bit 7 (NEXT18) enhanced

[C] input mapping revised

[C] loco/function decoder switch revised

[C] servo cv161 enhanced

zcs-410.zip
2015-03-09
4.09

[N] CV-Liste CV Schreiben Ergebnis wird mit Farben angezeigt
[K] Live-Modus diverse Fehler korrigiert

[N] CV-list cv write result is shown with colors

[C] live-mode errors corrected

zcs-409.zip
2015-02-23
4.08

[K] Initialisierung MXULF korrigiert (Fehler CV lesen)

[C] init of MXULF corrected (CV read error)

zcs-408.zip
2015-01-31
4.07

[N] Register Grundkonfiguration überarbeitet
[N] Lokdaten werden zu Beginn vom MXULF geladen

[N] register basic-configuration revised

[N] load loco data from MXULF at the beginning

zcs-407.zip
2014-12-14
4.06

[K] Effekte (CV125-132,159-160) überarbeitet
[K] Register Sound überarbeitet
[K] Live-Modus für Register ZPP ergänzt

[C] effects (CV125-132,159-160) revised

[C] register sound revised

[C] live-mode for ZPP register added

zcs-406.zip
2014-11-02
4.05

[N] Live-Modus für MXULF (Firmware >0.61.26) (siehe ?/Tastenkürzel und Maus)

[N] live-mode for MXULF (Firmware >0.61.26) (siehe ?/shortcuts and mouse)

zcs-405.zip
2014-09-27
4.04

[K] diverse Fehler korrigiert

zcs-404.zip
2014-09-09
4.03

[K] Fehler beim Lesen ZPR korrigiert

[C] error reading ZPR fixed

zcs-403.zip
2014-08-31
4.02

[N] Datei-Handlung ZCS/ZPR/ZPP überarbeitet (siehe ?/ZCS Überblick)
[N] Überprüfung auf Updates
[K] Diverse Fehlerkorrekturen

[N] file handling ZCS/ZPR/ZPP revised (see ?/ZCS overview)

[N] check for updates

[C] bug-fixing

zcs-402.zip
2014-08-08
4.01

[N] Sound CV726-737 ergänzt (ZPP-Datei)
[N] ZPP-Datei Speichern unter
[C] CV-Liste korrigiert
[C] Einstellungen COM-Schnittstelle mit Gerätenamen

[N] sound CV726-737 added (ZPP-file)

[N] ZPP-file save as

[C] cv-list bug fixing

[C] setup COM-ports with device names

zcs-401.zip
2014-07-18
4.00

[C] Advanced Mapping Zuordnungen korrigiert
[C] Servo Darstellung angepasst
[N] neues Installationsprogramm
[N] Anzeige und Ändern aller CV-Werte als Tabelle

[C] advanced mapping allocations fixed

[C] servo display adjusted

[N] new install software

[N] show and edit all cv values in a table

zcs-400.zip
---
Programmierumgebung / Development tool: PureBasic
Icons: Silk Icons
---
&copy 2017 by This Manhart - Letzte Änderung / last change: 29.1.2017